Mr. Ray Brandes was the former Scoutmaster, and later Troop Committee Member, of BSA Troop 59. His original article describing how to make these wooden paddles was published in the February 1991 edition of Boys' Life magazine. Mr. Brandes passed away October 18, 2016, at the age of 93.
---
The tale begins in 1933. As a 12 year old scout in Troop 12 in Jersey City, NJ, Hudson Council, I was attending summer camp in Kamp Henry Kohl located on Lake Marcia at the base of the High Point Monument in Sussex, NJ.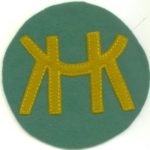 During the week, I developed an elevated temperature and was placed in the first aid tent. It was an army squad tent, with the sides rolled up during good weather. It housed the members of the first aid staff. It was located on a finger of land that projected into the lake. I could hear and see the goings on the lake and in camp.
The sounds of laughter, shouting from scouts in rowboats, canoes and swimming, floated up to the tent and brought on a spell of slowly developing homesickness. Instead of getting better, I became sicker. My scoutmaster realized I would be better out and in the activity of the camp. He was right, and my fever went away after I left the first aid tent. Before I left, the medical staff members autographed a wooden tongue depressor for me. I still have that, somewhere in my scouting collection.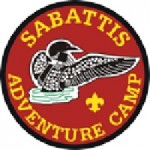 I became the Scoutmaster of Troop 59, Stirling, in Long Hill Township after World War II service. Recalling the memory of that tongue depressor gave me the idea for designing a 9″ wooden canoe paddle as a Totem for the scouts who attended camp with the troop. The front was decorated with a camping scene, and the backside left blank for signatures. I submitted the idea to Boys Life, and it was published in the February 1991 issue.
As a member of the Patriots' Path Council Flintlocks, at one meeting, I presented each attending member with a paddle. Bill Summers, a member, suggested that I make a small version of the paddle for the Sabattis Trek program. The year was 1992, and 40 paddles were made. I made the wood paddles and Joe Schott, also a Flintlock, and his wife, Nancy, helped decorate them with a picture of a Loon. The paddles were reported a big hit. The following year, 100 paddles were requested. I assumed total responsibility for the paddles. The decoration is changed each year so that a scout doing the trek the following year will not have two identical paddles.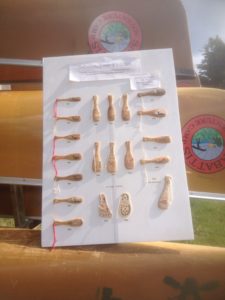 Starting in 1992, and to this day in 2012, over 20 years, more than 2700* paddles have been made.
Thank you, Bill Summers, for the suggestion.
October 27, 2012
Always a boy scout.
Mr. Bee
Ray